wizdisco70s
New Penguin







Number of posts

: 10


Age

: 20


Country/State

: NJ


Hobbies

: playing Cp, watching pokemon,playing DS Lite,playing trumpet


Penguin Username

: Disco70s


Registration date :

2008-12-07


Subject: New Penguin:get ranks up and signs Sat Dec 13, 2008 10:49 am

---

Im new so heres my 2 question:

My sign is aries but its not a cat its supposed to be the rabbit.I think the moderaters need to check the china thingy. Plz check all signs and fix it to!

My second question is how to i get my ranks up anyway (the stars)? Plz answer both questions.

P.S. IM in forth grade.



Last edited by wizdisco70s on Sat Dec 13, 2008 10:52 am; edited 1 time in total (Reason for editing : Forgot to add one more reason in the first question.)
Cp-Dude
Moderator




Number of posts

: 408


Country/State

: Hanging out...Somewhere


Hobbies

: Computers, Hanging Out, Doing Stuff!


Penguin Username

: Mat0528


Registration date :

2008-12-06


Subject: Re: New Penguin:get ranks up and signs Sat Dec 13, 2008 5:35 pm

---

Idk about the first question but you just have to post alot to get rank up
Ice Hawk117
New Penguin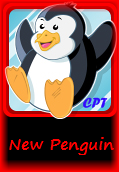 Number of posts

: 10


Penguin Username

: Ice Hawk117


Registration date :

2008-12-13


Subject: Re: New Penguin:get ranks up and signs Sat Dec 13, 2008 10:31 pm

---
Shadowydude9
Super Penguin





Number of posts

: 352


Age

: 21


Country/State

: Australia/Melbourne


Hobbies

: Video Games,Sport ,Movies being a total dude!


Penguin Username

: Shadowydude9


Registration date :

2008-12-12


Subject: Re: New Penguin:get ranks up and signs Sat Dec 13, 2008 11:07 pm

---
RaWrSaUcE1337
Friendly Penguin





Number of posts

: 551


Age

: 22


Country/State

: California


Hobbies

: basketball, computer, tennis, baseball a little


Penguin Username

: Agentronny


Registration date :

2008-12-06


Subject: Re: New Penguin:get ranks up and signs Sat Dec 13, 2008 11:19 pm

---

1. i dont know

2. you just need to post a lot. LIKE ME lol


_________________
Wow, Guest
You have 0 posts! Awesomeness!
An your bday is somewhere around this date 0
Happy Holidays Guest!
Sponsored content

Subject: Re: New Penguin:get ranks up and signs

---